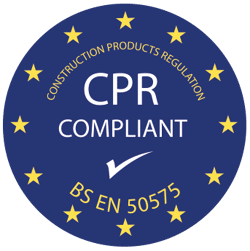 Construction Products Regulation (CPR)
The European Union, with the aim of improving the safety of buildings, has created a construction products classification system in agreement with their fire behaviour, which is common for the whole of Europe within the Construction Products Regulation (CPR).
Belcom, early on, fully took on board the concern to protect against fire together with the more responsible participants in our industry. It is with a great deal of satisfaction that to comply with the new Euro classifications, we have not had to alter any of our existing FireFighter branded cables to achieve CPR compliance. What we have achieved by CPR testing is confirmation of the standards that we already met.
These are standards which Belcom have always achieved but are now happy to confirm with third party test facilities in compliance with EN50575.
Enter the Number of Declaration of Performance below. It is printed on the CE label of our cable and can also be found by consulting our quotation or order documentation provided to you.