Armada® QFCI Fibre Optic Cable DNV-GL Certified No: TAE00000JG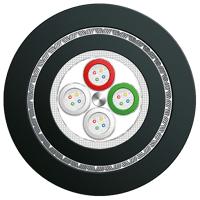 A Fire Resistant Fibre Optic Cable suitable for Indoor & outdoor applications. Manufactured according to NEK TS 606:2016, this Armada® QFCI is DNVGL approved making it suitable for Maritime Environments & Offshore Applications. The cable exceeds the requirements of IEC60331-25 with extended testing in excess of 180mins. 
General Construction
The cable contains upto 96 colour coded optical fibres contained in upto 8 colour coded loose tubes, each tube contains no more than 24 fibres. These tubes are filled with a thixotropic gel to prevent the ingress of water and a fire resistant tape is added over each tube for heat and fire protection. These tubes are SZ stranded with the necessary amount of fillers around a metallic central strength member. Fibreglass strength member yarns reinforce the cable core beneath an inner jacket of SHF-1. A layer of galvanized steel wires braid is stranded around the inner jacket and an outer jacket of SHF-1 completes the cable structure. 
| | |
| --- | --- |
| Central Strength Member: | Steel |
| Buffer Material: | PBT (Ø 2,5mm nom.) |
| Fibres colours: | according to EIA/TIA 598. |
| Total Number of Tubes: | 8 |
| Tubes colour code: | 1 - Red, 2 - Green, Others White |
| Fire Barrier | Fire resistant tape wrapped around each tube |
| Cabling: | SZ |
| Strength Elements: | E-Glass Yarns |
| Inner Jacket Material: | LSZH SHF-1 (black) |
| Overall Braid Material: | Steel wire (95 % nom. coverage) |
| Rip-Cord: | Yes |
| Outer Jacket Material: | LSZH SHF-1 (black) |
| Overall Diameter : | Ø 14,60 ± 1,0 mm |
| Weight : | 305 kg/km |
| | |
| --- | --- |
| Applicable Standards | IEC60793-2-10, IEC60793-2-50, IEC 60092-360, ISO/IEC 11801, TIA/EIA-568 |
| Flammability Rating | IEC 60331-25, IEC 60332-3-22, IEC 60332-3-24, IEC 60754-1, IEC 60754-2, IEC61034-1/2 |
| Installation | Guidelines as per IEC 60794-1-1 Annex A |